Part of company's BreakFree® cordless tools series, NTB7L Power Tubing Bender automatically bends and ejects large-diameter tubing efficiently and effectively.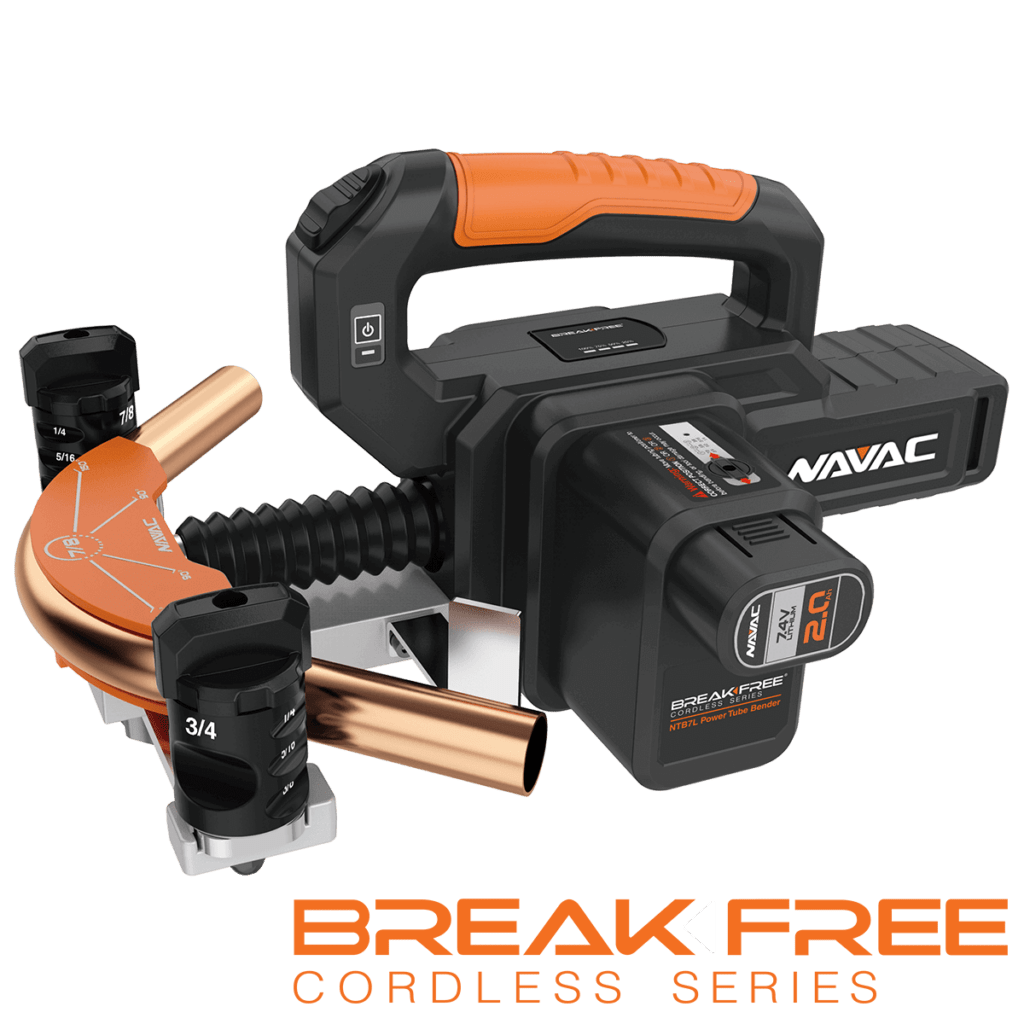 Lyndhurst, NJ – NAVAC, the world's largest supplier of HVAC vacuum pumps in addition to a wide array of tools, gauges, charging machines, recovery units and industry-specific items, has introduced the HVAC/R industry's first power tubing bender. The newest addition to the company's BreakFree® series of conveniently cordless tools, NAVAC's NTB7L Power Tubing Bender is designed to make a typically time-intensive chore far simpler, quicker, and more precise. The NTB7L joins the NTE11L Power Tubing Expander and award-winning NEF6LM Power Flaring Tool in NAVAC's family of battery-operated tubing tools.
For HVAC service technicians, bending large-diameter tubing is often a difficult, time-consuming task requiring high levels of attention and precision. Often, part of the frustration is removing the bent tube from a conventional bender mandrel. NAVAC's power tubing bender represents an exacting, time-saving solution to this often laborious process.
Suitable for seven distinct tubing sizes with outside diameters (OD) ranging from ¼" to 7/8", the NTB7L Power Tubing Bender allows soft ACR copper to be bent to any desired angle up to 90 degree via a single press/release control switch, and offers simple OD size changes in just seconds. Upon a completed bend, the unit's baffle automatically ejects the tubing while the tool resets – eliminating the end-of-bend struggles common with manual applications.
Despite its lightweight – the unit weighs just 6.2 pounds, including battery – the NTB7L Power Tubing Bender's large capacity lithium battery can power more than 100 bends per charge, and can be fully recharged in 30 minutes. NAVAC also offers a separately sold NTBRK Reverse Bending Kit.
"We're proud to be the first to offer an automatic tubing bender, which simplifies and expedites a longstanding pain point for busy HVAC service technicians," said Zhuk Zhang, Director of Products for NAVAC. "The BreakFree® NTB7L Power Tubing Bender is an efficient, versatile tool that we believe will quickly become a welcome addition throughout the industry."
###
About NAVAC
NAVAC is a global manufacturer that has dedicated over 20 years to the R&D and manufacturing of industrial vacuum solutions and HVAC/R tools. NAVAC draws upon its commitment to technical innovation, strong customer service and robust R&D allocation to deliver solutions offering unsurpassed efficiency, accuracy and ease of use.
Comprising a full lineup of tools, gauges, detectors, charger and vacuum pumps, among other solutions, NAVAC's product portfolio is designed with one overarching concept in mind: user-friendliness. The company seeks to meet a need for simpler, lighter, faster solutions that expedite service without sacrificing accuracy.