NAVAC, the world's largest supplier of HVAC vacuum pumps in addition to a wide array of tools, gauges, charging machines, recovery units and other industry-specific items, can lay claim to an accolade no other company can: An impressive three of our HVAC/R solutions were recognized by ACHR News as among 2018's Top Twenty Products.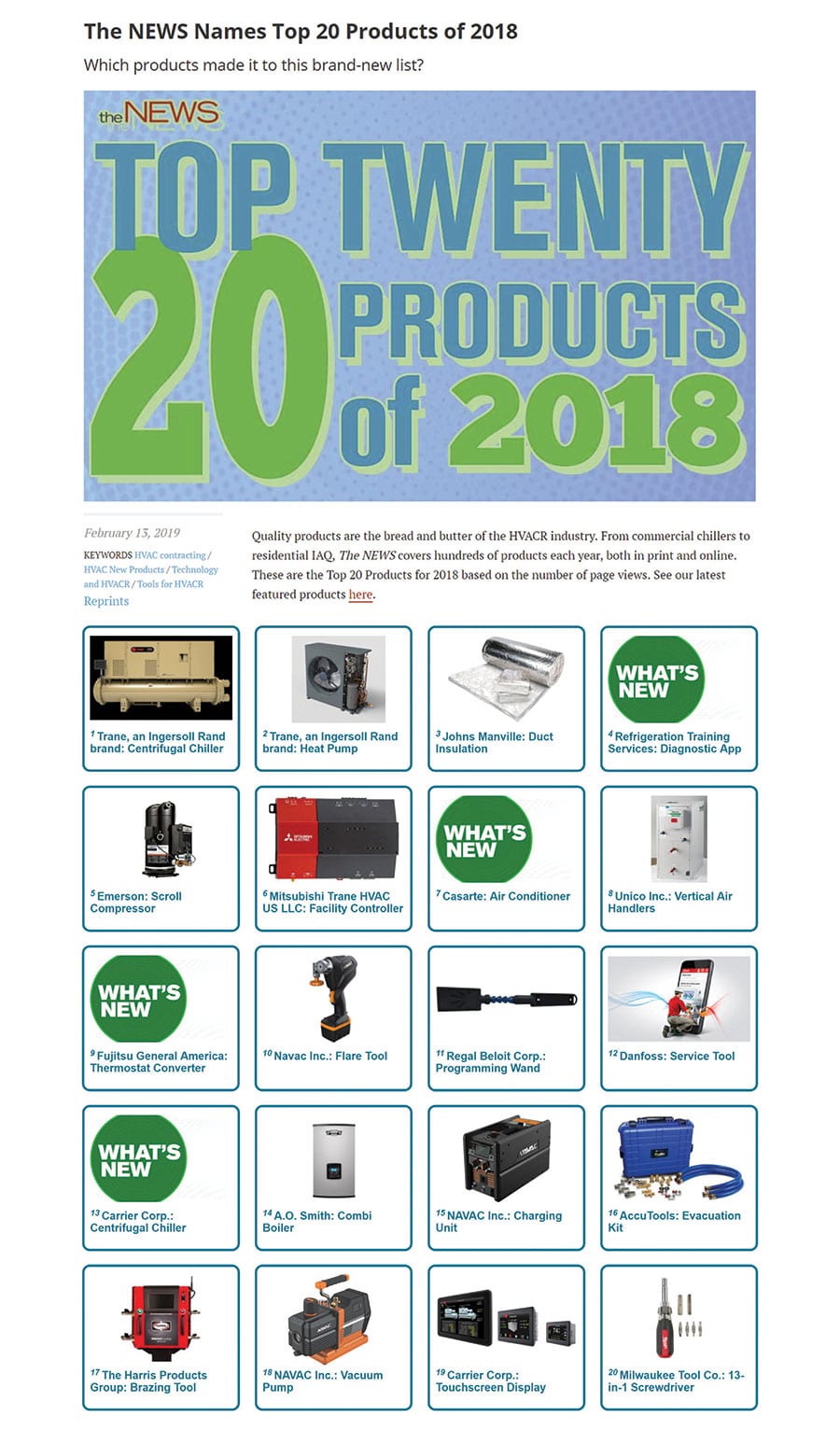 This praise from one of the industry's most well-respected trade publications serves to validate NAVAC's mission in entering the North American marketplace: to meet the need in the HVAC/R industry for user-friendly equipment and tools that are less complicated and save time – both crucial to busy technicians charged with conducting efficient yet exacting service.
The innovative NAVAC solutions that made the cut are:
The industry's first smart refrigerant charger, the NRC62i Smart Charging Unit offers automatic operation for intuitive, consistent evacuation and refrigerant filling. The NRC62i's powerful twin-cylinder vacuum pump rapidly and reliably evacuates an HVAC system to its preset vacuum level, with progress displayed digitally via a monitor and wireless scale. Upon reaching the preset vacuum level, the unit automatically conducts dry operation and leak detection and – also automatically – commences the charging function per predetermined parameters. The NRC62i then shuts itself down once charging is complete.
A welcome departure from creating flares manually, the NEF6Li Cordless Power Flare yields accurate, hassle-free flares in a fraction of the time compared to traditional flaring methods. Equipped with a high-performance, large-capacity rechargeable lithium battery, NAVAC's new automatic flaring solution makes flaring faster and far simpler without sacrificing accuracy or consistency. Designed to perform reliably in harsh environments, the NEF6Li Cordless Power Flare also offers variable speed control and quick-connect functionality.
Along with its sibling NRP8Di, NAVAC's NRP6Di is the market's first smart vacuum pump. Featuring a digital control interface, the unit offers unsurpassed intuitiveness with features such as task reminder, extended evacuation for improved vacuum, and precision vacuum measurement technology with display. An automatic solenoid valve prevents oil back flow and reduces vacuum decay during a power outage or accidental shut off. NAVAC vacuum pumps utilize an ultra-efficient DC Inverter – which, among other benefits, makes it approximately 20% lighter than other units in its class. Despite its weight the vacuum pump is nonetheless powerful, with twin cylinders ensuring best-in-class ultimate vacuum capabilities.
Also, a special congratulations to our friends at AccuTools, whose TruBlu Evacuation Kit also made the list. We've seen with convincing clarity why this solution made the Top 20: NAVAC currently has a promotion in partnership with AccuTools offering savings on its exceptional TruBlu Evacuation Kit when purchasing an (equally exceptional!) qualifying NAVAC vacuum pump. Click here for full details.