Compact, lightweight NP2DLM Cordless Vacuum Pump suitable for Residential HVAC Systems up to 5 Tons
Lyndhurst, NJ –NAVAC, the world's largest supplier of HVAC vacuum pumps in addition to a wide array of tools, gauges, charging machines, recovery units and other industry-specific items, was recognized for excellence in product design in the 16th annual Dealer Design Awards Program sponsored by The Air Conditioning Heating & Refrigeration News magazine.
NAVAC took Gold (1st place) in the Electronic & Hand Tools category for its NP2DLM Cordless Vacuum Pump, a compact, lightweight unit suitable for residential HVAC systems up to 5 tons with high-speed evacuation hoses.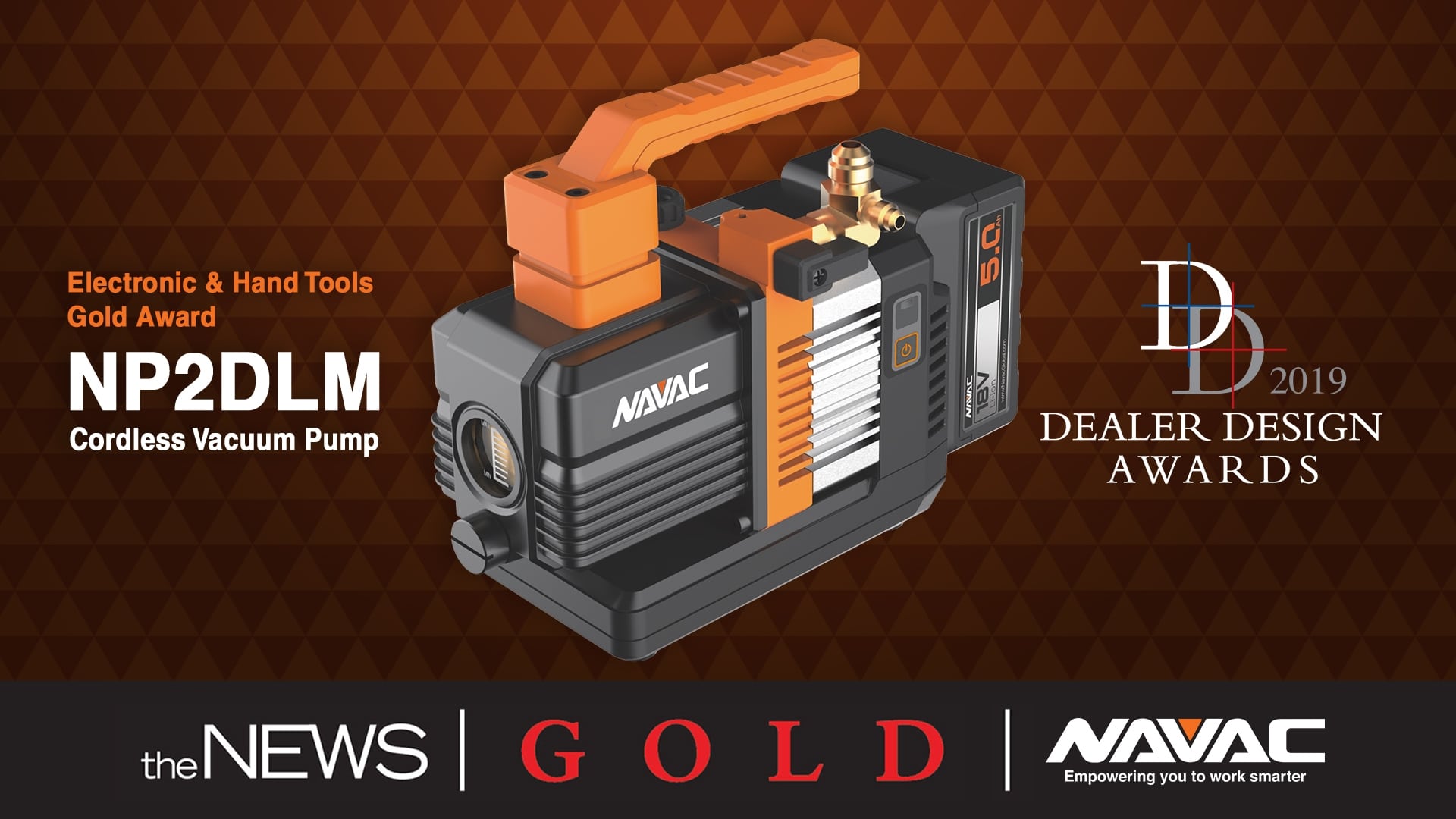 Weighing just 8.4 lbs with dimensions of only 9.2″×3.5″×7.5″, NAVAC's cordless vacuum pump is convenient to carry for technicians and ideal for applications where power supply access is an issue. The dual-stage rotary vane pump can reach an ultimate vacuum level down to 23 microns, and its lithium-ion battery can operate up to one full hour. The unit has an air flow capacity of 2 cfm, and features a shut-off valve for system isolation.
An independent panel of contractors acted as judges in the contest, which had 79 entries. The ACHR News is the leading trade magazine in the heating, ventilating, air conditioning, and refrigeration industries. Winning entries in the Dealer Design Awards were featured in the July 29, 2019 issue of The ACHR News, which is distributed nationally to over 32,000 HVACR contractors, wholesalers, and other industry professionals.
NEWS Publisher Mike Murphy stated, "These awards give us a unique opportunity to recognize the outstanding research and development efforts that go into many of the products serving the HVACR industry, and the awards issue gives our readers an opportunity to read about innovative installation and service solutions."
"We are honored to receive recognition from a publication that has long been a leading voice in the HCAC/R sector – and the honor is even more special considering that the judges were contractors, whose jobs we seek to make simpler and more efficient," said Lintao Lu, President of NAVAC Inc. "Our Cordless Vacuum Pump is a prime example of solutions that help streamline the servicing process for today's increasingly busy technicians."
###
About NAVAC
NAVAC is a global manufacturer that has dedicated over 20 years to the R&D and manufacturing of industrial vacuum solutions and HVAC/R tools. NAVAC draws upon its commitment to technical innovation, strong customer service and robust R&D allocation to deliver solutions offering unsurpassed efficiency, accuracy and ease of use.
Comprising a full lineup of tools, gauges, detectors, charger and vacuum pumps, among other solutions, NAVAC's product portfolio is designed with one overarching concept in mind: user-friendliness. The company seeks to meet a need for simpler, lighter, faster solutions that expedite service without sacrificing accuracy.