NAVAC also takes Bronze for Smart Refrigerant Charger with industry leading innovations.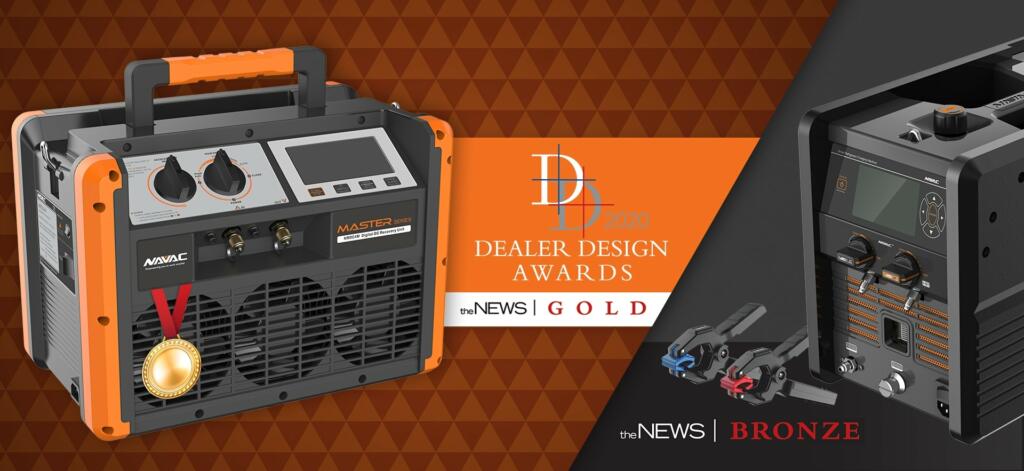 Lyndhurst, NJ –NAVAC, the world's largest supplier of HVAC vacuum pumps in addition to a wide array of tools, gauges, charging machines, recovery units and other industry-specific items, was recognized for excellence in product design in the 17th annual Dealer Design Awards Program sponsored by The Air Conditioning Heating & Refrigeration News magazine. NAVAC took Gold (1st place) in the Electronic Tools category for its NRDC4M recovery unit – its second consecutive year with a first-place winner.
As the world's first DC inverter 4-cylinder recovery unit, the NRDC4M is the fastest and most powerful machine of its kind on the market. Operating up to 40% faster than 2-cylinder units, the NRDC4M utilizes an efficient brushless DC motor and ultra-effective condenser with an oversized microchannel coil and three cooling fans. Featuring dual oil-free compressors, the unit is suitable for all commonly used refrigerants. The NRDC4M recovery unit is ideal for large tonnage commercial and industrial HVAC systems.
This is second year in a row that NAVAC took the Gold Prize in the Electronic Tools category. Last year, NAVAC's NP2DLM Cordless Vacuum Pump took Gold in the combined category of Electronic and Hand Tools.
NAVAC also was awarded the Bronze (3rd place) this year for its NRC62D Smart Refrigerant Charger, which at under 40lbs incorporates enhanced features such as a brushless DC-driven vacuum pump, wireless temperature probes with digital display of subcooling and superheat, and an upgraded, even more user-friendly digital interface.
An independent panel of contractors acted as judges in the contest. The ACHR News is the leading trade magazine in the heating, ventilating, air conditioning, and refrigeration industries. Winning entries in the Dealer Design Awards were featured in the July 27, 2020 issue of The ACHR News, which is distributed nationally to over 32,000 HVACR contractors, wholesalers, and other industry professionals.
"These awards give us a unique opportunity to recognize the outstanding research and development efforts that go into many of the products serving the HVACR industry, and the awards issue gives our readers an opportunity to read about innovative installation and service solutions," said NEWS publisher Mike Murphy. "Even more impressive is that the panel of judges is an anonymous group of contractors who determine the winners based upon ease of installation, service, and maintenance — judged by contractors for contractors."
"ACHR News has long been an exceptionally influential voice in the HVAC/R sector, so it's a privilege and honor to be recognized by such a prominent trade publication," said Stephen Rutherford, VP-HVAC Business  of NAVAC Inc. "The distinction is made even more special since the judging panel was comprised of contractors, whose jobs we seek to make easier and more efficient. Our NRDC4M 4-cylinder Recovery Unit and NRC62D Smart Refrigerant Charger exemplify solutions that help streamline servicing for busy technicians."
###
About NAVAC
NAVAC is a global manufacturer that has dedicated over 20 years to the R&D and manufacturing of industrial vacuum solutions and HVAC/R tools. NAVAC draws upon its commitment to technical innovation, strong customer service and robust R&D allocation to deliver solutions offering unsurpassed efficiency, accuracy and ease of use.
Comprising a full lineup of tools, gauges, detectors, charger and vacuum pumps, among other solutions, NAVAC's product portfolio is designed with one overarching concept in mind: user-friendliness. The company seeks to meet a need for simpler, lighter, faster solutions that expedite service without sacrificing accuracy.