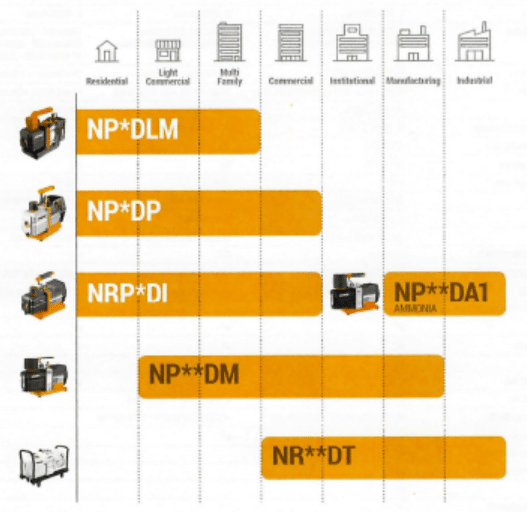 The NAVAC vacuum line includes high-quality pumps that are well-suited for the smallest reach-in refrigerator all the way to the largest ammonia plant and everything in between. 
Every pump in the line containsan automatic shut off mechanism to prevent loss of vacuum in the case of power outage.  They also have industry-leading "ultimate vacuum" pulldown ratings in microns listed on each pump for easy field performance verification.
Battery-Powered Pump (NP*DLM)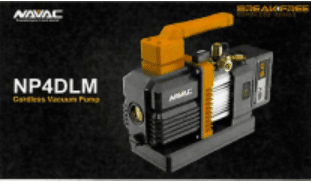 The NAVAC battery-powered line is light, full battery-powered, and capable of pulling deep vacuum, on a wide range of residential and commercial applications where the self contained power and small, light form factor are an advantage. 
Some examples are refrigeration splint condensers in tight areas, new installations when the site is pre-power, and anywhere else where lugging a heavy pump is difficult or taxing.  
AC (Alternating Current) NP*DP Pumps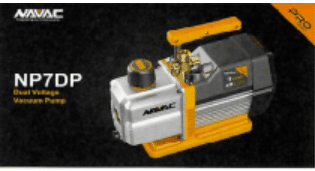 These rugged, two-stage pumps come in 4 CFM & 7CFM sizes and provide an excellent value for the majority of residential and commercial HVAC/R applications.  They are equipped with check valve backflow prevention, a large oil reservoir, and incredible 15 micron ultimate pulldown.  The oil mist filter fill cap makes it easy to change the oil as well as prevents oil loss while running.  The large oil sight glass gives an easy view into the oil condition to give you an early warning for potential issues. 
Smart Pumps (NRP*DI)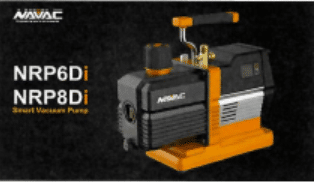 The NRP*DI series pumps have all of the same great features as the NP*DP but also include higher efficiency DC motor that provides quiet operation, lighter weight, and advanced performance.  These pumps have a fast acting automatic shut off valve as well as an industry-first, onboard vacuum (mircon) gauge.  Altogether these pumps provide best in class results for residential and commercial applications.
Master Series 12 CFM Pumps (NP**DM, NP**DA Ammonia)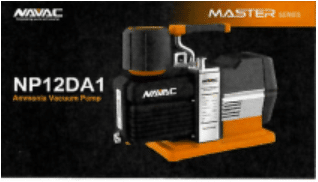 When working with large equipment such as VRF/VRV systems, 50-ton+ DX, chillers and parallel rack refrigeration, you need a high-capacity pump that can run for an extended period of time.  The master series couples high capacity with a DC motor and a large, high performance oil mist filter to pack a lot of punch at a manageable size and weight.  With a 5 micron ultimate vacuum, you will be able to pull a deep vacuum in some of the most critical applications with these pumps.  This series also includes the **DA version that has been specifically engineered for the corrosive properties of ammonia refrigerant.  
NRD16T Rotary Vine Industrial Pump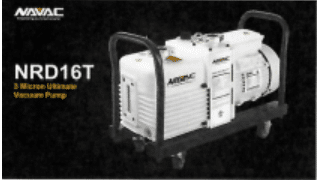 The NRD16T is the pump you use when you need to pull out all the stops.  With a 3 micron ultimate pulldown, KF volume hose connectors, and 16-quart oil capacity, this pump will handle any job you throw at it.  Make sure to use the properly specified NPO68 vacuum pump oil for optimal performance. 
Mist Eliminator/Fill Cap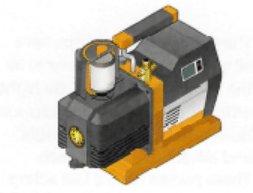 The NP and NR lines of NAVAC pumps utilize a mist eliminator.  This ensures that oil mist won't leave the pump and potentially contaminate an indoor space.  It also serves to return the oil to the pump reservoir so that oil isn't lost over time.  This design is especially important in situations where the pumps will run for a long time indoors where oil mist can serve as a significant safety hazard as well as a nuisance to clear up.  In the NP line the mist eliminator also doubles as a fill cap for oil, which is both practical and convenient.  
This article was originally printed in Review of Vacuum for Service Engineers